About Himalayan Health & Hearing
Himalayan Health & Hearing Inc. started life as the HearingNEPAL Program.
In 2014, to expand our inclusiveness to other areas in the Himalayan region, HearingNEPAL Program Inc. changed its name to Himalayan Health & Hearing Inc.
At the grass roots level, little has changed, and Himalayan Health & Hearing Inc. will continue to run the HearingNEPAL Program in Nepal. It will now also be running Ear, Hearing and Health projects within the broader region.
In a nutshell:
No borders- no politics!
We have been including and joining other health programs,particularly in relation to Shechen –Karuna Clinic. This Shechen Monastery supported clinic is where we have an established clinic. For the last 12 months Keshab (NAHOH) has been providing hearing care at their weekly health camps in the slums and poorer areas around Kathmandu
Shechen team has now joined us at some of traditional hearing camp sites, providing general health care. They contribute a Doctor, Nurse, Medicine dispensing person and Manoj. Manoj Raj (pictured left) is the social mobiliser at Shechen, and tirelessly strives for the benefit of all
An acclaimed eye surgeon from Germany, Dr Detlev Gueck, (pictured right) has been working for many years in the Himalayan region with Kopan Monastery, supplying eye care medicines and prescription glasses. That team now travels with us (since 2012). Our last camp he handed out 900 pairs of glasses, and prepared lists of candidates for regional cataract surgery camps.
lew and Sue from Whitsunday Hearing, Queensland, Australia
lew is an engineer/audiometrist with over 30 years experience as a mechanical engineer and more recently trained as an audiometrist. lew "makes it all happen".
Sue has been an audiologist for over 30 years, with extensive experience in Government, Hospital and private practice audiology. The work in Nepal has been more rewarding than all that went before!
Keshab from NAHOH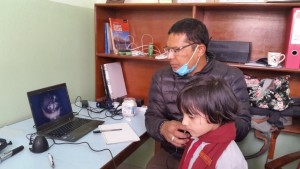 Keshab Dangol, CMA, Otology Assistant from Nepal Association of the Hard of Hearing (NAHOH).
Keshab was trained initially as a medical assistant, under the guidance of ENT surgeons at the local Teaching Hospital. He has run ear health camps in conjunction with NAFA and the HearingNEPAL Program since 2009, and is the primary service provider on the ground in Nepal.
Who Do We work Alongside?
Medical & support staff from Shechen Medical Clinic & Hospice
Himalayan Health & Hearing, through Keshab, now run regular health & hearing clinics in the Kathmandu area.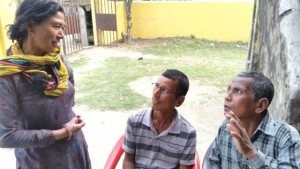 Community Family Welfare Association – Janakpur
In Janakpur, we have partnered with the Community Family Welfare Association, where their accountant and our leading lady Kamala facilitate hearing camps in their region. Kamala has an effective school visiting program and is trained to provide primary ear care and hearing screening and referral.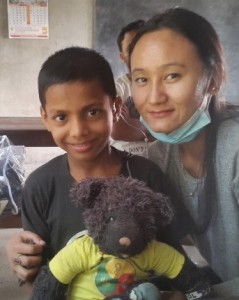 In Ladakh, Himalayan region of India, we have just moved to a Tibetan Medicine clinic in a monastic institution for Nuns.We have also employed a local lady , Angmo, to manage our program there.
Black Bear and Rachel are official ambassadors, honorary team members, supporters and mascots.
The Bears are well-travelled as you will see as the website posts their many adventures.
They meet all the "locals", children young and old, on our trips and always produce a smile!!!
See their adventures in Nepal and Australia.
What is the positive impact made on people in their community?
Hearing Related Care:
In remote areas, there is no TV, newspapers (who can read anyway?)…and so to be isolated because of the inability to communicate is a sentence of banishment to solitude!
Education in primary ear care of both local clinic staff and the people will dramatically reduce the chance of prolonged ear infection, with resultant permanent hearing loss
Provision of primary ear care, cleaning ears, treating infection and where possible arranging for free surgery reduces the impact of poor hearing health
Provision of hearing devices for the young means they can go to school, they can make friends, they can grow up normally… Young hard of hearing are often put into a "deaf" home, as they are difficult to manage at home and in regular schools. What chance then?
"Dumb" has the same connotation, here as there, and so young people growing up are socially isolated…unable to be an active part of the community…spurned at marriage age and live a solitary life
Provision of hearing devices, usually an amplifier around their neck and ear plugs, to the elderly, means they continue to contribute to the family benefit of their experiences, and can hear their religious teachers, so they are better able to prepare for death and their next lives.
The locations where we hold our camp increase their acceptance in the community
Tsum valley Nunnery: resented by many of the community because it was a secure refuge for young girls escaping unwanted circumstances, is now respected as the local provider of health and hearing care
Boys home in Palpa, seen to "lower the tone" of the rural community, has new status as the venue for the hearing care program
School / monastic centres in Ladakh India) and Solu khumbu (Nepal) have also become drop in centres for ongoing hearing care, with locally trained staff
Examples:
Young girl, 9 years old in Solukhumbu…born with atresia (no ears). Should could hear only if people shouted (as if you put your fingers in your ears). She has been fitted with a head band with a bone conducting hearing aid. Belated she is in school for her 3rd year. She plays with her many friends She welcomes us each year with the biggest smile. Lew cries!
Young man in Solukhumbu can now get married
Lady in Ladakh – India want to get married for the fourth time…the others left because of her inability to communicate
Elderly people are surrounded by rejoicing friends, they can talk as a group again
General Health Related Care
We have our new silver 4wd pictured with the Shechen Jeep. In the wet season, Keshab used to go on his bike, now he travels safely, with additional staff and equipment to the camps.
Shechen medical team can come with us when possible, so the extension of health services by working with the Shechen team is helping enhanced health care become more accessible to those who suffer without resources to seek assistance.
Hi everyone,

I think it's fantastic that the new vehicle provides the means to get to remote villages more quickly and safely, especially in the wet. It is also wonderful that people can have a general health check at the same time as having hearing tested. There are so many benefits to having an integrated system – truly a 'health and hearing' service.
Congrats to all involved in putting this service concept together and making it successful.

Cheers,
Robyn