Friends of Himalayan Health & Hearing
The Friends of Himalayan Health & Hearing was created as an informal avenue by which to offer compassionately based, independent support for disadvantaged persons who need a "lift up" to get them (or keep them) going on a sustainable path.
These activities are funded independently and not part of the formal Himalayan Health & Hearing Inc. A separate bank account has been established for donations to the Friends of HH&H.
These funds are not subject to application for tax concessions, but of course are documented for transparency's sake. They are not included in Himalayan Health & Hearing Inc. accounts.
Donations are always welcome and can be made through our Paypal account.

Some of the Friend's Activities
Individual Assistance
Assistance for individuals is considered on a person by person basis. The Friends of HH&H of course cannot be all things to all people, yet we aim to provide what help we can, when we can.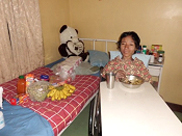 Kumari's Story – When we first met Kumari, she was a patient in Shechen Hospice. She had been raped, inhaled poison, and retreated to her bed for so long that she had developed terrible bedsores. Worse, she had given up all hope of life.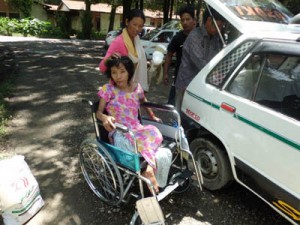 Friends of HH&H have taken Kumari under their wing, initially providing comfort, additional nutrition, supplements and support. As she improved, a wheelchair was provided to facilitate her mobility. Kumari improved to the point where she was no longer considered a palliative care patient and a new hom