HearingNEPAL Program
The HearingNEPAL Program has evolved over the past two years and has now obtained  charitable status and endorsement as a Donor Gift Recipient in Australia, which will facilitate future fundraising.
In 2014, to expand our inclusiveness to other areas in the Himalayan region, HearingNEPAL Program Inc. changed its name to Himalayan Health & Hearing Inc.
At the grass roots level, little has changed, and Himalayan Health & Hearing Inc. will continue to run the HearingNEPAL Program in Nepal. It will now also be running Ear, Hearing and Health projects within the broader region.
lew and Sue from Whitsunday Hearing, Queensland, Australia
lew is an engineer/audiometrist with over 30 years experience as a mechanical engineer and more recently trained as an audiometrist. lew "makes it all happen".
Sue has been an audiologist for over 30 years, with extensive experience in Government, Hospital and private practice audiology. The work in Nepal has been more rewarding than all that went before!
Keshab from NAHOH
Keshab Dangol, CMA, Otology Assistant from Nepal Association of the Hard of Hearing (NAHOH).
Keshab was trained initially as a medical assistant, under the guidance of ENT surgeons at the local Teaching Hospital. He has run ear health camps in conjunction with NAFA and the HearingNEPAL Program since 2009, and is the primary service provider on the ground in Nepal.
Who Do We work Alongside?
Medical & support staff from Shechen Medical Clinic & Hospice
Himalayan Health & Hearing, through Keshab, now run regular health & hearing clinics in the Kathmandu area.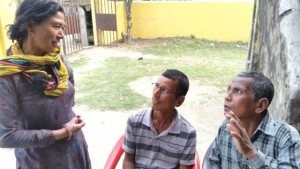 Community Family Welfare Association – Janakpur
In Janakpur, we have partnered with the Community Family Welfare Association, where their accountant and our leading lady Kamala facilitate hearing camps in their region. Kamala has an effective school visiting program and is trained to provide primary ear care and hearing screening and referral.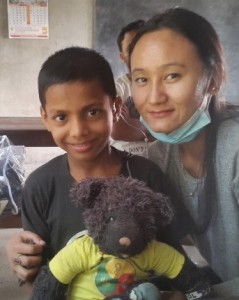 In Ladakh, Himalayan region of India, we have just moved to a Tibetan Medicine clinic in a monastic institution for Nuns.We have also employed a local lady , Angmo, to manage our program there.
Who travels with us?
Black Bear and Rachel are official ambassadors, honorary team members, supporters and mascots.
The Bears are well-travelled as you will see as the website posts their many adventures.
They meet all the "locals", children young and old, on our trips and always produce a smile!!!
See their adventures in Nepal and Australia.