The HearingNEPAL Program has evolved over the past two years and has now obtained  charitable status and AusAID recognition as a Donor Gift Recipient in Australia, which will facilitate future fundraising.
In 2014, to expand our inclusiveness to other areas in the Himalayan region, HearingNEPAL Program Inc. changed its name to Himalayan Health & Hearing Inc.
At the grass roots level, little has changed, and Himalayan Health & Hearing Inc. will continue to run the HearingNEPAL Program in Nepal. It will now also be running Ear, Hearing and Health projects within the broader region.
Who Are We?
lew and Sue from Whitsunday Hearing, Queensland, Australia
lew is an engineer/audiometrist with over 30 years experience as a mechanical engineer and more recently trained as an audiometrist. lew "makes it all happen".
Sue has been an audiologist for over 30 years, with extensive experience in Government, Hospital and private practice audiology. The work in Nepal has been more rewarding than all that went before!
Keshab Dangol, CMA, Otology Assistant from Nepal Association of the Hard of Hearing (NAHOH).
Keshab was trained initially as a medical assistant, under the guidance of ENT surgeons at the local Teaching Hospital. He has run ear health camps in conjunction with NAFA and the HearingNEPAL Program since 2009, and is the primary service provider on the ground in Nepal.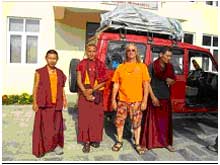 Monks and staff from the Medicine Buddha Health Clinic at Kopan Monastery.
Kopan generously donates staff, resources and accommodation for ear health clinics in their region, as well as facilitating community liaison at Kopan and at affiliated monasteries.
Black Bear and Rachel are official ambassadors, honorary team members, supporters and mascots.
The Bears are well-travelled as you will see as the website posts their many adventures.
They meet all the "locals", children young and old, on our trips and always produce a smile!!!
See their adventures in Nepal and Australia.
Why Nepal?
Nepal is one of the world's poorest countries.
It is a country of about 30 million people which lies between India and China, and is home to the majestic Himalayan mountain ranges.
The majority of the population lives in extreme poverty with little or no access to affordable health care. Visitors are always inspired by the resilience of the people with their resourceful approach to adversity, their readiness to smile, welcome visitors to their country, and give thanks for the good things in their lives.
Next, the high incidence of primary ear problems which were encountered were not being adequately addressed.
    16.6% of the total population have hearing loss  (~2.7million people)
    Hearing impairment is the No 1 cause of disability in Nepal (30% disabled are h/impaired)
    1 in 5 cases of adult hearing loss are due to middle ear disease
    1 in 2 cases of hearing loss in children is due to otitis media
It was clear that there was a need for more resources for early identification and treatment of medical conditions of the ear and ongoing education about ear care and prevention.
The World Health Organization states that "community based health workers are the key to effective health care in rural areas.
Through the help of one of NAFA's partner organizations in Nepal and also by searching the Internet for existing services in Nepal, a Community-based organization was identified in the south-west area of Kathmandu valley. This group, Nepal Association of the Hard of Hearing (NAHOH) was established in 1996 by a group of hard of hearing people to assist others with ear and hearing problems. Their broad objectives are:
Community based primary ear care services-early detection and intervention.
Community based awareness program to prevent hearing disability.
Community based rehabilitation for the hard of hearing persons.
After meeting with members of this group, seeing their volunteer Ear Assistant performing a school-based Ear Clinic, and reviewing their Concept Paper, we felt their goals were strongly aligned with our own values and NAFA's aims "to improve the physical, social, emotional and economic well being of people in Nepal".
Most importantly, theirs was a model set up by Nepali people themselves in response to their own identification of a community need.
How we became alerted to hearing problems
During a visit to Nepal in 2008, Lew and Sue became aware that there was a high incidence of hearing loss among young people, and the services to assist them were very limited.  In the rural areas, which make up the majority of the country, medical care is scarce and hearing-related services are non-existent.
The program officially began in November 2009 while Lew was on a study program at Kopan Monastery. He had been asked to see an elderly monk (94yrs) who was hard of hearing and had been told nothing could be done.
Sue managed to get an audiometer sent to Lew at the monastery (which is a whole other story!) and he was able to ascertain that the monk had a severe to profound mixed hearing loss and that hearing aids would probably help.
Returning to Nepal in January 2010, they fitted him with power aids and he was able to hear his carers and teachings again as well as the ritual bells so important to the Buddhist traditions.
Beginnings of a hearing camp
After their initial trip to Nepal in 2008, Sue & Lew had joined the Brisbane-based Nepal Australia Friendship Association (NAFA) which is an entirely voluntary group of very dedicated people who raise money for various projects in Nepal. These include child sponsorship programs for education and housing for disadvantaged kids, as well as infrastructure and support projects for schools and health clinics in rural Nepal.
As part of their support to NAFA, they offered to provide a "Hearing Camp" during one of NAFA's annual visits to a village in the Hilly region, called Tawal, which had been supported by NAFA for over 10 years.
Lew was invited to go along in January 2010 with the NAFA Executive as part of his support of a power project proposal for the village.  Lew insisted Sue should come along and as a birthday present (!) he bought her a battery powered audiometer so she could "make herself useful" along the way – if there was any call for it……. There was!!!  The results began to show the desperate need for primary ear care, as they saw many children with impacted wax, middle ear dysfunction and middle ear fluid effusions. They were not sure how many of these would be able to access medical care, or afford the treatments which were recommended. Their first hearing camp in Tawal village highlighted the great need for ear services, and between them, they tested 40 people over the 3 days they were there and fitted 9 hearing aids or Assistive Listening Devices.
They also ran, in conjunction with NAFA, a hearing camp at a school in Thimi, a district on the outskirts of Kathmandu where some of NAFA's sponsored children went to school.  It was intended to determine if there was a need for hearing rehabilitation, and the sustainable form in which it could be delivered.
In the initial set-up of the Program, all equipment, hearing aids and personnel were provided by Whitsunday Hearing.
However, it was paramount that a sustainable program (local need and desire for hearing assistance, practically applied and affordable) could be established before external funding was sought.
Initial achievements
During the first, three day, ear camp in Tawal, 40 people were tested, ranging in age from 5  to 82 years.
Sue & Lew had brought with them a "Hear-it" assistive listening device which proved invaluable in demonstrating the benefits of amplification and also in the initial stages of history-taking where the person had a significant loss.
There was a high incidence of Tympanic Membrane perforation, and Otitis Externa, as well as impacted wax. These primary ear conditions were referred to the health worker, and 4 people were recommended to have further ENT advice.
In total, 9 hearing aids were fitted (monaural only) and  a further 4 people were recommended to have an Assistive Listening Device (the older members of the community).
The next challenge was to determine how the service could be evaluated, maintained and made sustainable for maximum benefit to the Nepali community.
The challenges in providing a service in such a remote location are many:
Getting prior information to the community that the team was coming to provide hearing testing was difficult, as communication to these villages is by word of mouth between community members coming and going to the nearest town or to Kathmandu. ( NAFA members had worked hard on this and a  "list" had been prepared, of those who reported ear or hearing problems for testing.)
The language barrier means that Sue & Lew needed to rely on local Nepali people as interpreters, with all the possible pitfalls of translation.
Power in these villages is limited or not available. Whilst there is a small amount of solar power for lighting in the households, there is no power readily available (one of NAFA's ongoing projects). Tawal has a water generated mill for grinding grain, which can be switched over to a generator for power in the evenings. Lew negotiated to have this done during the second afternoon of the camp, so equipment (laptops and video otoscope) could be recharged.
Health workers have poor access to training (another NAFA project) so the Tawal Health worker, was given basic  "on the job" training in hearing testing  and hearing aid fitting, so that he could fit the new earmoulds when they were delivered to him. He was also trained  in ear care education for prevention of hearing problems, maintenance of hearing aids and how to monitor their use via battery usage.
These villages have little access to medical supplies, so treatment options for primary ear problems are minimal.
The traditional ideas about ear infection in childhood mean that out-dated or risky practices are still engaged in, eg. it is common for the villagers to use a bird feather to clean the ear canal!!!!
Limited access to clean water means that personal hygiene is not prioritized in the scheme of things.
Those cases which were identified with primary ear pathology, for which we would immediately refer to Specialist services back home, often have no means either physically or financially to be able to travel to major ear treatment centres in Kathmandu or Pokhara, to access medical attention. This left a large gap in the services provided,  as they could really only refer people to the local Health worker and make recommendations which were unlikely to be able to be followed up.
Where a case of profound deafness was identified, the support services in health and education which we take for granted in the West are just not there. (A nine-year old girl who also travelled to Tawal for a test could not be given any assistance and had only rudimentary signing with her parents.)
So with these numerous challenges, Sue & Lew set about finding solutions.
Developing a Sustainable Program

With the goal of developing a sustainable program for the people in Nepal, formal partnerships have been developed between the HearingNEPAL Program and NAHOH, Kopan Monastery and other Nepali associations.